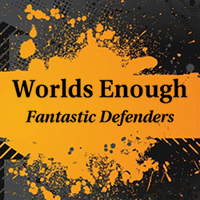 Today is Deadline Day, or D-Day, for submissions for our first anthology: Fantastic Defenders. It's terribly exciting to see all the stories coming in. It's the culmination of the first phase of a journey that started when I said to a bunch of my fellow writers, "I have an idea for an anthology." Wonder of wonders, they took me seriously. Equally as important, Tannhauser Press took us seriously, too.
It's also scary because it means that I have to start the second phase, providing the necessary editorial feedback to help the contributors tune their stories to the max. Technically, I guess this makes me an Editor, a role in which I'm happy to have also enlisted the help of Donna Royston (who also has a quietly powerful story in the anthology).
It's an anthology of novelettes/novellas in the range of 10-20K words each, with a total of five slots. As a "mostly" curated anthology, four of the writers were pre-selected, and I have three of their stories in hand. The fourth writer is in the final stages of finishing up his story, which I expect to have in about a week. The stories are:
We opened up the fifth slot for competition. I've also received three submissions thus far for the last slot. I've heard that there may be a few more on the way.
We're planning to publish the anthology on May 5, 2017 in print, ebook, and audio formats. Stay tuned for more news!