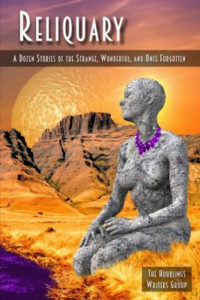 A new anthology called Reliquary was just published on January 6th by our publishing partner, Tannhauser Press. The anthology features twelve stories by new writers on the theme of relics.
We're proud to announce that four of the writers for our upcoming anthology, Fantastic Defenders, are represented in that volume. Those writers are David Keener, Jeff Patterson, Donna Royston, and Martin Wilsey.
David Keener, an IT specialist in his day job, has also been pressed into service to assist Tannhauser Press with ebook production. Due to some logistical issues, the Kindle edition of the anthology will be available on Amazon in about two weeks.