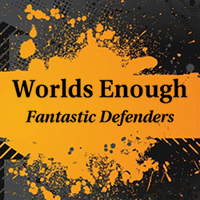 We're producing an anthology called Fantastic Defenders. It's targeted for five novelettes/novellas in the range of 10K to 20K words. It's a semi-curated anthology, which basically means, at least in this case, that four of the slots have been filled by hand-picking authors we're familiar with and who have a track record of doing excellent stories at this length.
That leaves us with a fifth slot that we still need to fill. Accordingly, we're opening the slot up for competition, with a deadline of December 31, 2016.
Basic description is:
Looking for novelettes or short novellas in a fantasy setting featuring heroes defending against the forces of evil. Examples range from a royal bodyguard defending an infant princess against a well-organized assassination attempt to an aging bureaucrat defending an empire using only his wits. No elfie-welfie fiction.
Other information can be obtained via email inquiry (to dkeener _at_ davidkeener.org) if you're interested in competing for the slot.
NOTE: This Call for Stories is closed. The anthology was published on May 19, 2017 and is now available on Amazon.